Here's LA County Supervisor Holly Mitchell saying that police and prosecutor's unions are "clearly such white supremacist organizations."
She made the comments at a forum titled, "Stop LA Sheriff Attacks: Family Forum" hosted by Black Lives Matter Los Angeles. She then claimed that law enforcement was retaliating against the public for legislative defeats in Sacramento. "They know that they've lost more than they've won [in terms of getting legislation passed]," she said. "And I think that's what then amplified their behavior, their behavior against you at the community level."
Who is Holly Mitchell?
Holly J. Mitchell is a politician currently serving as a member of the Los Angeles County Board of Supervisors. She holds the seat previously held by Mark Ridley-Thomas. Before that, she served in the state assembly and senate since 2010. Her most notable accomplishment is prohibiting discrimination against black hairstyles in the workplace. The LA Times calls her the "queenmaker" of black politics in California.
When Mitchell ran for the seat, she criticized her opponent's support of law enforcement. "His historic support of law enforcement, his endorsement by police unions, his crafting of Measure C several years ago, which rolled back police accountability gains that we had earned since the Rodney King experience, kind of flies in the face of what people are asking for now."
Mitchell is also notorious for an incident in the State Senate. Another senator, Susan Rubio from Baldwin Park, adjourned the Senate in honor of Sgt. Ernie Barbossa, a 30-year LASD veteran who had recently passed away. When Mitchell heard that her colleague was honoring Sgt. Barbossa, she scowled, shook her head, and got up. She left before the senate was adjourned, while her colleague was still talking about Sgt. Barbossa's work with at-risk youth. Although Senator Rubio only spoke for 80 seconds, Senator Mitchell left after 36 seconds before she was done. You can watch the whole thing below:
Why This is Bad
First, and most obviously, these comments are false. Police agencies in Los Angeles, including the largest, LASD, are majority-minority organizations. In other words, they are mostly people of color, with a white minority. Holly Mitchell is claiming that all of these people of color are acting against their own self-interest. She's claiming that all these people of color are being racist against their own communities and races. It's preposterous. People of color are not just overrepresented in these groups, they are often the majority.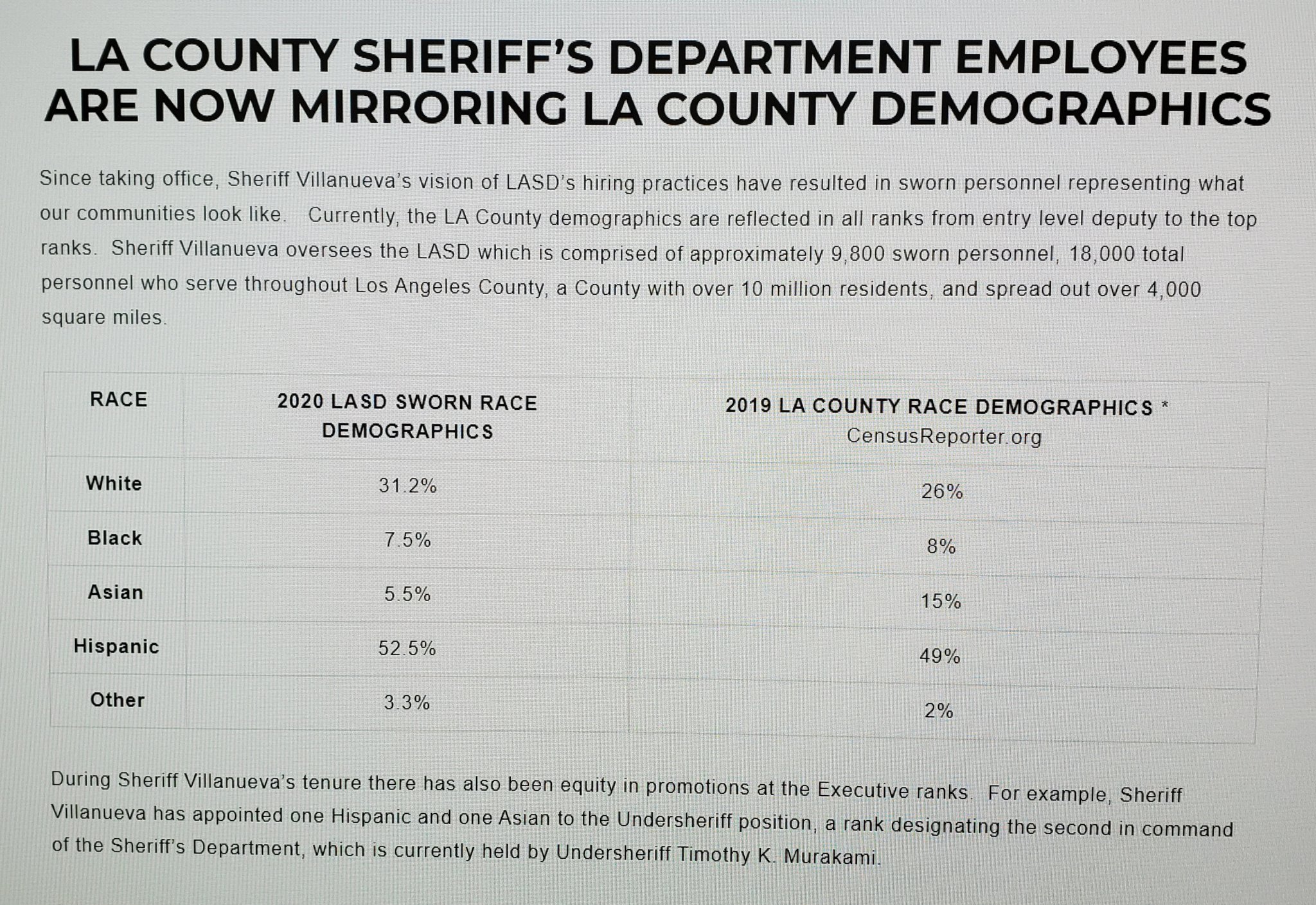 Did Mitchell intend to call the 52.5% of the force that is Hispanic a bunch of racists?
And it's not just the street cops. Inglewood, a city in Mitchell's jurisdiction, has a black police chief, a black mayor, a black supervisor, and a majority black population. Until a few months ago, the DA was also black. Literally every leader in that town's criminal justice organizations was black. Does Mitchell believe that all of these people are running a white supremacist system?
Calling someone a racist is a very serious allegation. Being a racist is among the worst, most hated, and most shameful things a person can be. We should not throw this allegation around. Especially because those unfairly accused of racism, in this case, cops and prosecutors, often respond with outrage and hostility.
Comments like this widen the racial divide instead of closing it. Harmful, baseless name-calling belongs in the schoolyard, not on the board of supervisors.
What Law Enforcement is Saying
Police officers are not happy to be called white supremacists. Retired LASD Chief Jim Hellmold said, "these commends are so dismissive & disrespectful to the service & sacrifice of so many honorable men and women! My late father served with his partners since the early 1960s, I served for 33 years, my sons are serving. We're not white supremacists!" Retired LASD Commander Michael Parker said, "She is wrong. I would never be in a white supremacist organization and detest racist ideology. Also, LASD & LAPD have been majority – minority police agencies for 10+ yrs. Each have about 37% white officers, abt 46% Hispanic officers, and abt 13% Black officers." LASD Chief Patrick Jordan said, "Can one of her staffers give her a demographics report regarding the LASD & LAPD!"