Two El Monte police officers were killed yesterday, in what the mayor described as an "ambush." One was a 22-year veteran and the other was a rookie.
According to CBS News:
The El Monte officers were identified Wednesday as Cpl. Michael Paredes and Officer Joseph Santana. Paredes, the longtime veteran of the department, is survived by his wife, daughter and son, police said. Santana, who previously worked as a public works employee and with the San Bernardino County Sheriff's Department before joining the police department in his hometown, is survived by his wife, daughter and twin sons.
The shooting happened at 4:45 in the afternoon at a motel. Officers responded to a report of domestic violence between a man named Justin Flores and his wife. The caller reported that Flores was stabbing his wife, Diana Flores. Ofcrs. Paredes and Santana went to the door of the motel room and were shot at immediately. A witness heard five shots. Additional officers arrived and also came under fire. Police were able to shoot and kill the Justin Paredes after he ran into the parking lot. But Ofcrs. Paredes and Santana died after being rushed to the hospital.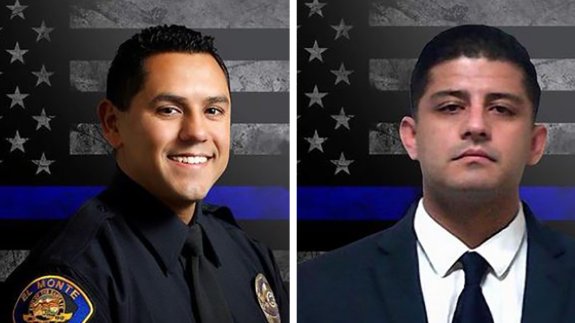 After the murders, Diana Flores apologized to the officers. She said they had saved her. "I'm so sorry. They didn't deserve that. They were trying to help me."
Justin Flores, the Shooter, Had a Long Criminal History
Flores was a two-time felon who had been to prison. In 2009, he was convicted of vehicle theft and given 16 months prison. He only served two months before being paroled. In 2011, he was convicted of burglary and given two years. This time, he served 10 months.
Flores was prosecuted at least a dozen times for things like driving with a suspended license, being under the influence of a controlled substance, or resisting arrest.
In March 2020, Flores was arrested and convicted of being a felon in possession of a firearm. He was also in possession of methamphetamine and ammunition. Instead of being sent back to prison, he was ordered given probation. He only had to serve 20 days in jail. He was on probation when he shot and killed Ofcrs. Paredes and Santana.
Flores Was Out of Custody Because of Gascon's Policies
According to reporter Bill Melugin, LADA George Gascon did not allow his prosecutors to consider the fact that Flores had a strike on his record when they prosecuted him. A strike would make him ineligible for probation. But the prosecutors were forced to follow Gascon's policy of ignoring Penal Code section 1170.12. Since then, two separate courts have found that policy to be illegal. Gascon issued a statement:
Mr. Flores was convicted of burglarizing his grandparents' home more than 10 years ago, resulting in a strike. He was arrested in 2020 and charged with being a felon in possession of a firearm and for possession of narcotics for personal use. Last year, Mr. Flores pleaded guilty to being a felon in possession of a firearm, a felony. The sentence he received in the firearm case was consistent with case resolutions for this type of offense given his criminal history and the nature of the offense. At the time the court sentenced him, Mr. Flores did not have a documented history of violence.
George Gascon's Policy is to Pay for Flores's Funeral
Los Angeles County District Attorney George Gascon created controversy on his first day in office, when he promised to weaken enforcement of a wide variety of criminal laws.
Another controversial policy, almost overlooked until now, is to pay for the funerals of individuals killed by police. It reads as follows:
[The Bureau of Victim Services] will also contact the families of individuals killed by police and provide support services including funeral, burial and mental health services immediately following the death regardless of the state of the investigation or charging decision.
You can read the policy yourself here.
In light of this killing, many are questioning the wisdom of this policy. LA County residents are justifiably angry that Gascon seems to be siding with a murder and abuser while offering nothing to the families of the murdered police officers. Aside from these moral questions, many are wondering how the District Attorney can justify using public money in this way. Funding for victim services is not unlimited. Gascon would be taking money out of the hands of crime victims to put it into the hands of a cop-killer's family.
Notes
A video about the murders: